Article: 9 Ways to Promote Your Salon
---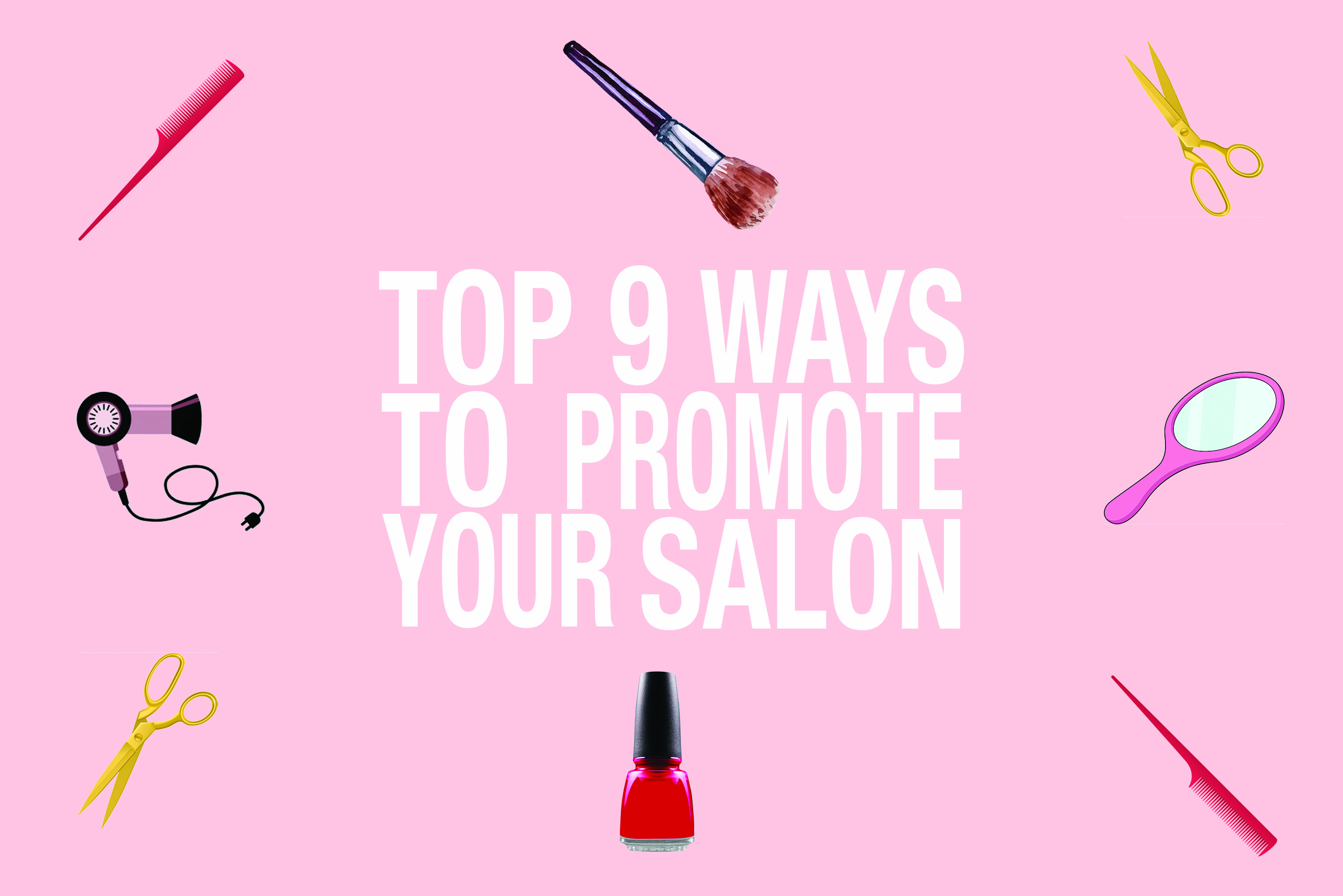 ---
The beauty industry is considered to be one of the most lucrative and diverse industries of all time. One of the biggest money makers in this industry is the salon market. There are currently over 800,000 salons in the United States and its demand continually grows. With everyone wanting in, some startups might find it difficult to stand out from the rest. That's why we're going to show you nine simple ways you can promote your salon successfully.  
The brand of your salon will set you apart from your competitors. Your brand is the personality of your business. It is the overall vibe that you want to convey to your customers. It is shown in the aesthetic of the store, the behavior of the staff, the name of the salon, the logo, flyers, and merchandise. Since you are a part of the beauty industry, you have to make sure that your brand appeals to your customers look wise. We have some pointers you should look into to help you create your brand.
a.) Identify the Services You're Offering (What)
What are the services you are offering to your customers?
There are salons that only offer one type of service and others that offer multiple. You have to figure out where you fit in this spectrum. List down the services you plan to provide so that you can get a general idea on the best way to brand your salon (i.e. aesthetic of your salon).
b.) Identify Your Target Market (Who)
Who are your main customers?

What is their age bracket?

Which gender/s are you targeting?

What is their income level?
Identifying your target audience allows you to tailor your brand to your market. It will be seen in the way you design your space, price your services, choose your merchandise, etc. Remember that it is important to attract the right people and not "just everyone".
c.) Identify The Purpose of The Business (Why)
Why did you get into the salon business?

Why do you provide the services and products that you do?

How do you want to improve your customers' lives?

Why is what you're doing important to you?

What is "typically done" in your industry that you do not like? How does your salon improve this?
Once you find the answers to all these questions, you will surely find the right branding for your salon. The best way to use your answers to find the similarities all throughout. With enough research and planning, you'll definitely get your dream brand!
The way your salon looks is very important because it is the very first thing your customers will see. From that first look, your customers should immediately identify the mood you are going for. More importantly, your customers should already find it inviting. A great way to make your salon inviting is to have a selfie wall and a comfortable waiting area. Whatever look you are going for, it is a must to have these two areas in your salon because this is what keeps your customers entertained and interested in your salon.
Selfie Wall
Having a selfie wall is a new trend for salon owners. It is essentially an area in your salon wherein customers can take selfies of themselves. The selfie wall is usually the most decorated part of your salon. Adding this little touch will definitely boost the number of customers who come to your salon. A pro tip is to place the name of your store, social media accounts, and a hashtag for your salon on the wall. This encourages people to tag you and use the hashtag. This is also great for monitoring posts that you could possibly curate in the future.  
Waiting Area
A comfortable waiting area is another key to your customer's heart. This is because a.) it is the first thing people see once they enter your salon and b.) it will determine whether or not they are willing to stay. According to frequent salon-goers, they would rather wait at a salon with a comfortable waiting area rather than a cold, unappealing waiting area–regardless of the price and reputation of the salon. The following are ways you can make your salon's waiting area more comfortable for your customers:
Furniture - Choose comfortable lounge chairs and sofas. Avoid choosing leather sofas/seats because they are more prone to cracking. A good tip is to purchase chair covers so that your furniture stays clean.

Amenities - Provide magazines, books, and if you can, a TV. This is very important especially on days when you are short staffed and have people waiting. If you have the extra budget, have a bowl of candies out and/or provide refreshments.

Design - Choose a design that matches your brand and appeals to your client. Your brand will determine the color scheme and decor.
3. Amazing Customer Service  
It is crucial to provide your customers with the best experience possible. This is because your reputation is riding on the output of their treatments. Consistency in your services is key–make sure all your customers are well taken care of regardless of who is servicing them. Keep the communication lines between your staff and your customers open. Also, plan out emergency situations with your staff so that you know what to do in any given situations. Remember that customers also remember how you handle bad situations, so always remain calm and put your best foot forward. Knowing these key points will help you map out a great customer service plan.
4. Great Use of Word-of-Mouth Marketing
The use of word-of-mouth is a very popular marketing strategy. Over 82% of business owners in the United States agree that the use of word of mouth has attributed to more than 50% of their success. Word-of-mouth can help expand business and increase customer loyalty if you provide them with great customer service. Included in this is making great conversation with your clients. You must teach your staff to converse with clients. Provide little hints in the conversation on how they should invite their friends over. On average, a person will tell 9 colleagues or friends about good experiences–that's 9 potential customers. Your current customers will always be your biggest asset, so it is important to take care of them. Focus on all the points mentioned in number 3 and guaranteed that more customers will be coming your way.
5. Lively Social Media Accounts
According to many salon owners, Facebook and Instagram have been the bread and butter of their online presence. It is an easy, convenient, and cost-efficient way to make your mark online. What is important is that you are engaging with your customers and that your posts personal and sincere. Also remember that your posts must entertain, educate, and inform your customers. Do not just bombard them with discounts and sales, it is quite a turn-off. The following are best and appropriate things to post on your Facebook and Instagram:
Facebook
Post customer success stories.

Give out trivia related to your industry.

Inform your customers about your packages, services, etc.

Post when you're having a discount.

Post about the incentives being offered, merchandise, etc.

Relate your posts to pop culture and current events.

Showcase your staff by posting employee highlights: their skills, interests, etc.
Remember that Facebook is like your "website" it is the main page you will refer to when customers ask for more information. This is the best place to lay out everything you want to communicate to your market.
Instagram:
Photos of new hairstyles your offering.

Photos customers after their treatment (with permission of course).

Instagram stories (stories) of events in your salon.

Stories of your day to day activities at the salon.  
Remember that Instagram is very "aesthetic oriented". It is best used as a "photo album" for all of your best creations (i.e. hairdos, nail art, etc.). This is also where you can show beautiful photos of your salon, your products, etc.
6. Optimized Online Platforms
Another way to become visible online is to create an SEO friendly website and social media accounts. SEO stands for search engine optimization and it is a way of making your business' website a candidate for the first page of a Google search results page. If you want business exposure and more online traffic then you need to make sure people find you online. 33% of people searching visit the top listed result in Google's organic search results, compared to just 18% for the second position, and the traffic only reduces from there. So if your salon isn't there the chances are potential new customers won't get as far as visiting your salon website/page.
The following are ways you can make your website/social media account more SEO friendly:
Provide all necessary information on your page (i.e. full address, contact information, store hours, links to important pages, etc.).

Post unique content (don't duplicate content).

Add useful photos and videos to your site (related to your brand).

Ensure that your username is the same as your brand/store name.
It is great to host events for your community and/or participate in existing events that are relevant in your area. This allows you to engage with the people in your area and promote your salon on a personal level. A popular event salons hosts are charitable events such as haircut drives wherein all hair collected are donated to charities. Another way is to get your salon involved in events in your area. Perhaps you could get a stall and give discounted hair treatments. This is also a great opportunity to give out merchandise such as custom elastic hair ties that you can use while fixing their hair. Your custom ties will help them remember your salon and the amazing 'do! With events, the possibilities are endless!
A great way to get your current customers to keep coming back is through incentives. These are perks that customers can get should they avail of your services. For instance, you could start a referral discount program wherein you existing customers get a certain perk for bringing in a new customer to your salon. Another great way is to provide discounts for new customers. Loyalty cards are also an amazing way to keep customers coming back. To tie in with your social media presence, you could also ask your customers to leave reviews on your Facebook page for a small treat in return (i.e. a free sample of shampoo). Providing your customers with incentives gets more people to talk about your salon.
Salons usually sell hair and beauty products (such as shampoos, hair colors, etc.) on the side for extra income and promotion. Providing products are also a way to increase customer interest and loyalty (should the products work on them. Other than beauty products, a current trend in salon merchandise is to sell/give out custom elastic hair ties. This is because it's cost-efficient, useful to your customers, and it promotes your business well. With custom elastic hair ties, you can have your logo, name, and contact information printed out on the hair tie. More importantly, they are related items to the salon market: They hold your hair up (or hold your hair back if you choose to get headbands). They can also be used to bundle the other products you sell together. Additionally, elastic bands can serve as business cards both openly and inadvertently. For instance, when a customer uses the hair tie as a wristband and their friend borrows, that's exposure! What are you waiting for? Get your custom elastic hair ties now!
That's all there is! Now you are ready to go and make your salon a success. Follow these five methods and you will definitely be delighted by the results! Give it time and soon you will have the best salon in your area.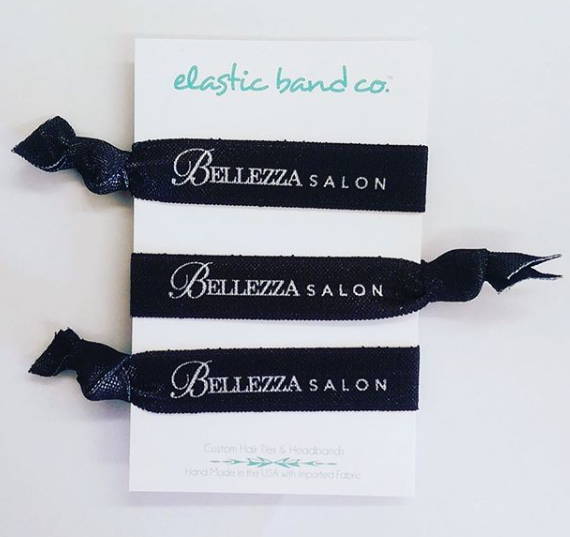 Custom hair ties we made for Bellezza Salon