Article: How To Create An Amazing Event
---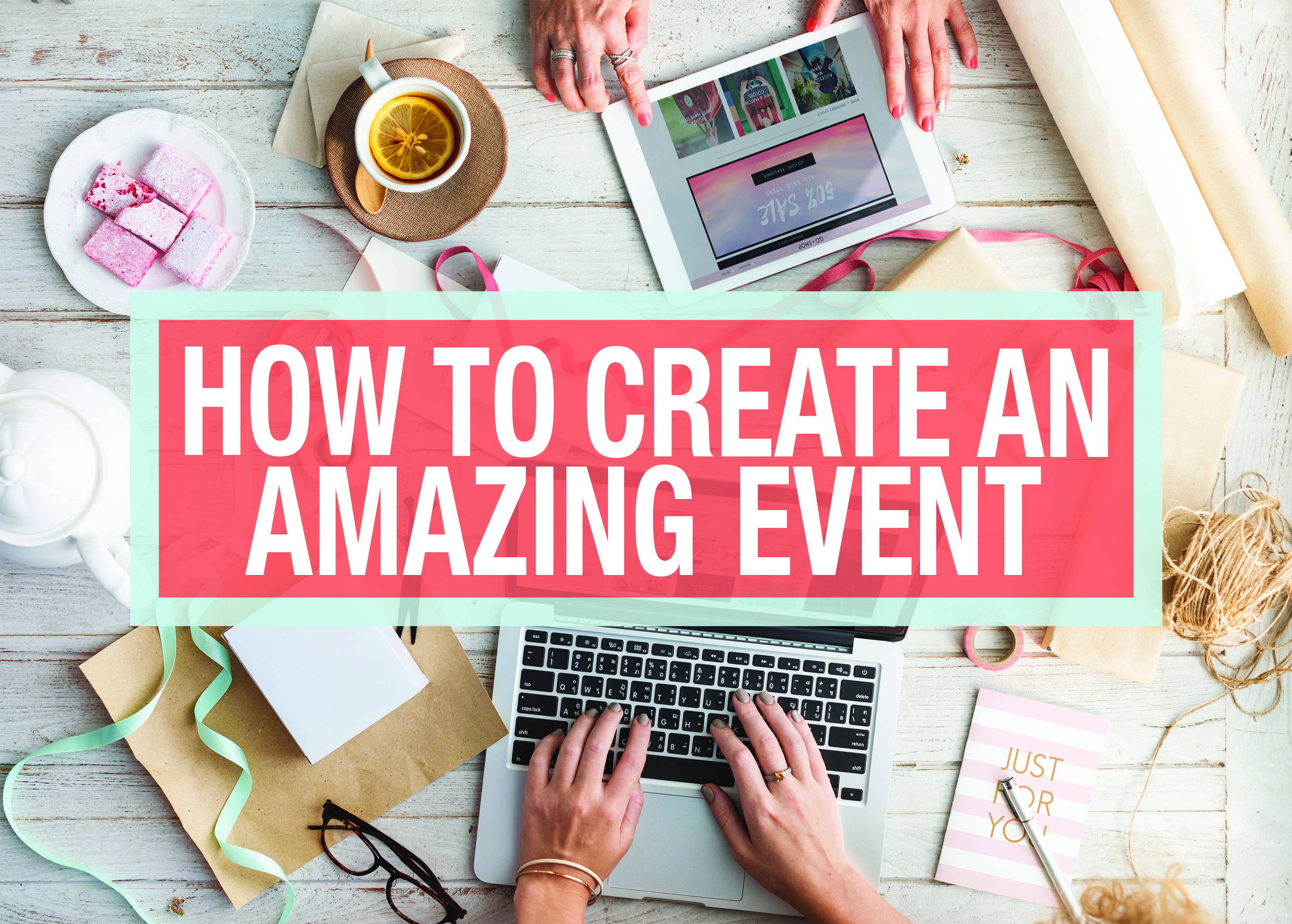 ---
A lot of people get intimidated by event planning. Whether or not you are one of those people, when the time comes that you do have to create an event, having a great checklist is always a good thing. Whether it be a small get-together or a big corporate function, we break down the important things you need to know in order to create an amazing event.
To create an amazing event you have to plan it. The outcome of your event is very dependent on how well you plan it. Take note that an event is always 80% planning and 20% execution. Let's look at the main parts of the planning process that you need to know.
1. Theme
Choosing a theme is important because it becomes the basis for all your decisions for the event. For instance, it determines the type of food you will serve, the venue you will choose, the decorations you will hang up, and more. If you are having trouble choosing a theme, we have some guide questions that can help you.  
What is the type of event you are planning? If it is a personal event (i.e. wedding, birthday, etc.), celebrants usually choose the theme.
If it is a corporate event or other, please refer to the next questions.
Who is your target audience for the event?

What is the purpose of your event?

What is a similarity between the purpose of your event and your target audience?
For corporate events take note that your theme should appeal to the interests of your guests. If it does not attract their attention, they might be less inclined to attend.
2. Timeline
Creating a timeline is crucial in event planning. This is where you to take the time to sit down, look at your calendars, and set deadlines. An event generally takes 4-6 months of planning, but this is can always change on how big or small the event is. Some events can take years of planning and others only a few weeks. That being said, you have to make a timeline no matter how long your planning time is because it keeps you on top of everything you need to do.
The following are a list of things you need to plot out in your timeline:
Date of Event - This shows you your time frame and helps you space out your deadlines.

Creation of Initial Guestlist - This gives you a general idea of how many people you are hosting for the event.

Search for a Venue - This should be one of the first things you start doing. A pro tip is to find 3 amazing venues to choose from.

Finalize Invites - This is when you have the final guest list and you are ready to send out invites.

Search for Caterer - Just like finding a venue, you should always find more than one place.

Creation of Event Flow - This gives you an idea of the things you need for the event. This is also where you can highlight who your host/s and performer/s are and the equipment you may need.

Finalize Guestlist/Venue/Caterer - Should be plotted out in this order because the guest list determines how many people are attending which will help you choose your venue. Additionally, finding out your guests' dietary restrictions helps determine your caterer.
3. Budget
Having a budget is important because it narrows down your options (i.e. venue, food, guest list). Personal events are usually easier to handle since you or the host usually shoulder the expenses. However, business events are different because the main goal is to spend as little money as possible.
The following are things you need to consider when planning out your budget for a business event:
Who will finance the event? Most business events are funded by sponsors, ticket sales, and/or internal marketing budgets. However, since the goal is to use as little money as possible, your best bet is through sponsors and ticket sales. A pro tip is to create incentives for sponsors that will convince them to finance your event.

What is your budget? Once you have decided where you will get your funds, it is now time to set a budget. Most sponsors require that a specific amount is disclosed when you send your proposal. This is why it is important to set a budget, so that you may allocate funds accordingly. Additionally, it also helps if you request for in-kind donations from your sponsors (such as venue or catering services) to help you save on expenses.
II. Creating Your Checklist
Now that you have your theme, timeline, and budget in place, it's time to create your checklist. This keeps you organized and on track. It also helps when it comes to finalizing your options.
1. Invites
There are two types of invites: The physical and online invitations. Having great invites is important because it gives your guests an impression of what the event will be. This is very important specifically for marketing and business events because it determines the attendance of your guests. Here is a rundown of the types of invites you should send out depending on the type of event.
Small Personal Events
Facebook Event Page - Small gatherings with your friends require little to no fuss. An event page is the easiest way you can monitor who RSVP-ed and post follow up reminders.

Email Invites (Evites)/Text Message - This is mainly for your friends who do not have Facebook.
Big Personal Events  
Physical Invitation - Big events are more formal in nature which is why giving out invites is helpful because it sets the tone of your event, and it helps avoid crashers. It is always great to think of innovative invites that will leave a lasting impression. For instance, people have spent a fortune on LED video invites. Although it is pretty impressive, it is very wasteful and pricey. A great invite idea is to use custom elastic bands. This is because you can easily place a great design on them and all the necessary invitation details such as the date and name of the event. They are also inexpensive and useful to your guests even after your event. For example, your guests could use them as hair ties, wristbands, and/or use them to bundle items together. Check out the prices for custom elastic bands and the design tips to get you started.

Facebook Event Page - This is mainly used to do follow-ups and to remind guests of important information.
Small and Big Business/Marketing Events
Physical Invitation - Only provide physical invites to VIPs if you're planning a big event. These are the people you NEED at your event (i.e. sponsors, influencers, media). For this, it is great to use custom elastic bands as an invite because it is attention-grabbing and it helps event staff determine your VIP guests. You should ask them to wear it around their wrist for the event as it can serve as their "pass" for the event. It also makes your guests feel special. At the price of these bands though, you might as well give them out to all your guests to avoid party crashers (if this is a concern for you).

Facebook Event Page/Evites/Text Blasts - Mainly used for public events. This really helps you reach a huge amount of people.
2. Venue
Choosing a venue is dependent on the theme, guest list, and event type. You must always make sure that you have your ideal venue and your backup venue. It is a good idea choose event spaces that fit your guests plus 10 more. This is to avoid having an empty space or a cramped up space. Make sure that the event space is also in line with your theme. For example, if you were to have an "Under the Sea" themed celebration, one option is to check if you could host an event at the aquarium or somewhere near the sea.
3. Food
When it comes to food, you must always think ahead. An important point to consider is the dietary restrictions of your guests. If you have difficulty getting that information, a pro tip is to do the 60/40 method. This is where 60% of the food is void of any dietary restrictions while 40% appeals to all types of restrictions.
4. Giveaways
Giveaways show your guests your gratitude for their attendance and provide a lasting impression of your event. They should be related to your theme and appeal of the interest of your guests. One great giveaway item is custom elastic bands. Using this as a giveaway is very popular because they are cost-efficient, useful for all of your guests, and give a lasting impression. The guests will appreciate elastic bands because they can use it for a multitude of things such as hair ties, wristbands, etc. Also, custom elastic bands are the most budget-friendly giveaway you will ever see! At Elastic Band Co, bulk orders come at very low prices. Another great way you could use them is to help package bigger giveaways. That way, all aspects of the package become useful to your guests and are not wasteful.
It is time for the big event! We list down things you should anticipate during the event and also give you tips for great event execution.
1. Logistics
On the day of the event, you have got to make sure that everything is in place. The staff, crew, food, and set up should be ready at least two hours before the event. Getting things done earlier is always key to a successful event. It is also important that you check in on the weather reports for that day a week in advance so that the necessary provisions can be made.
2. Event Flow
Once everything is set up and ready, it is time to focus on the event flow. A pro tip is to delegate specific parts of the event to your staff so that you do not need to worry all on your own. For instance, one person could be in charge of making sure the host and presentations flow, while the other could monitor the food. You should not plan a big event on your own!
3. Back Up Plans
Should an emergency arise regarding the venue, food, equipment, host, etc., You must have a backup in place. The main goal is to keep attendees happy without disrupting the flow of the event. A pro tip is to hire staff who can substitute for other roles in the event that something comes up. The flexibility of your staff is always key.
4. First Aid  
No matter what kind of event you plan, it is always important to think of the safety of your guests. Therefore, you must make sure that you have a first aid kit or first aid station during your event. Trust me, it'll save your life and theirs!
There you have it! This is event planning and execution 101 in a nutshell. Keep these things in mind, and you will surely come up with a great event that will be remembered for years to come!