New Custom Fold Over Elastic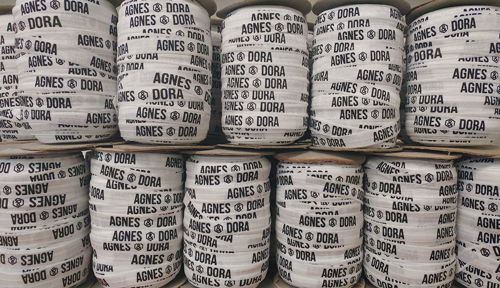 Creating memories from a roll of printed fold-over elastic is only limited by your imagination! Order a roll of custom printed fold-over elastic to celebrate a special occasion, show pride for your favorite organization, customize your mask, or just reflect your current mood. You can use our online custom designer to upload your logo, pattern, or text and order your custom elastic roll.
Our rolls of custom fold over elastic are 5/8″ wide and are very soft. Fold over elastic is flat.

We customize rolls of elastic with a minimum of 300 yards. Not sure how many yards to order? Just speak to one of our friendly representatives and we would be happy to assist you with customizing the elastic to your needs.   
We are excited to launch our colored rolls of fold over elastic! Now available in 49 colors. Click here to order a non custom roll of fold over elastic.
Customize Your Fold Over Elastic Roll Now!